The Dave's Mom's Thanksgiving Pie Site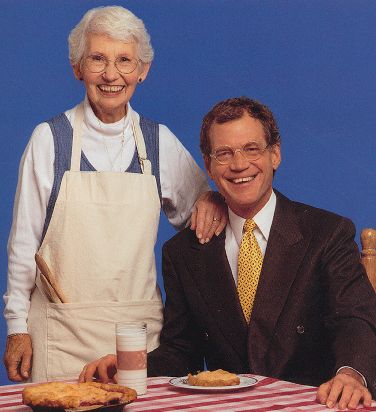 "Let's stop for a moment to admire the rotating pies."
- David Letterman
13th Annual Dave's Mom's Thanksgiving Pie Contest
One of our favorite Late Show with David Letterman traditions occurs each Thanksgiving, when Dave fires up the satellite and chats with his Mom, Dorothy, and attempts to guess what kind of pies she has made for Thanksgiving. Since 1999, the Alt.Fan.Letterman (AFL) Pie Committee (Helen, Traci, and James) has been conducting an annual pie contest so that you the home viewer can play along at home. In 2007 there was no Thanksgiving episode of the show because of the Writers' Strike, so we dreamed up a little something called the Pie Machine 314159, which is now part of the Pie Contest tradition.
As always, the Grand Prize is a homebaked pie made specially for you. Visit the Pie Prize Wonderland for full details from Traci, AFL's Pie Goddess. The Virtual Winner will receive a package of Whoopie Pies.
New this year: Join us for the PieCast on Google+ Hangout. Details to follow.
The Pie Committee wishes you and yours a happy and healthy pie eating season. Now good luck and get going!